Kids Ministry at Grace Family
At GFC our kids (infant through 5th grade) experience safe, age-appropriate environments where they learn about Jesus in a creative and relevant way.
Your first visit
Here's what to expect when visiting Grace Kids for the first time:
First, head downstairs to our Family Welcome Center. There we will meet your family, check your child into our system and give you a quick tour of what you and your child can expect as a part of our Grace Kids environments.
Upon checking in for the first time, we will ask for the following personal information (NOTE: We value your privacy and will not share this information with anyone):
Parent/guardian name(s)
Child's name
Child's birthdate
Home address
Phone number
Any special instructions (allergies, special needs) for your children
To Pre-Register your children, click the button below:
How check-in works
Before Service: You can check in your child at the Family Welcome Center each week. When you check-in you and your child will be given matching name tags that are exclusive to your family and your visit. Your child will need to wear the name tag portion while you hold on to the matching tag.
After Service: After the service is complete, you will return to your child's room and give them your tag in order for your child to be released back to you. If you need the tag to pick up other children the volunteer will give it back to you, and if not they will keep it along with the child's name tag.
**If you lose your name tag you can always get another one at the Family Welcome Center. Children will not be released to an adult who does not have a name tag that matches their child's.**
During Service: If you need to visit your child during the service for any reason, please bring your parent tag to the Family Welcome Desk and we will escort you to your child.
We invest in Children and Students
Which is why our commitment to kids at Grace Family Church begins from day one. We have four rooms dedicated to serving the youngest of our church family – an Infant Nursery, a Toddler room, a Preschool room, and an Elementary room.
All kids need and love a place that is safe, loving, and fun. We make a special effort to help your children feel secure and to keep them safe while you spend time with God in Worship. Our volunteers consider it a joy and a privilege to focus on your child while they are in our care.
Our Children's environments are available each Sunday morning during worship services.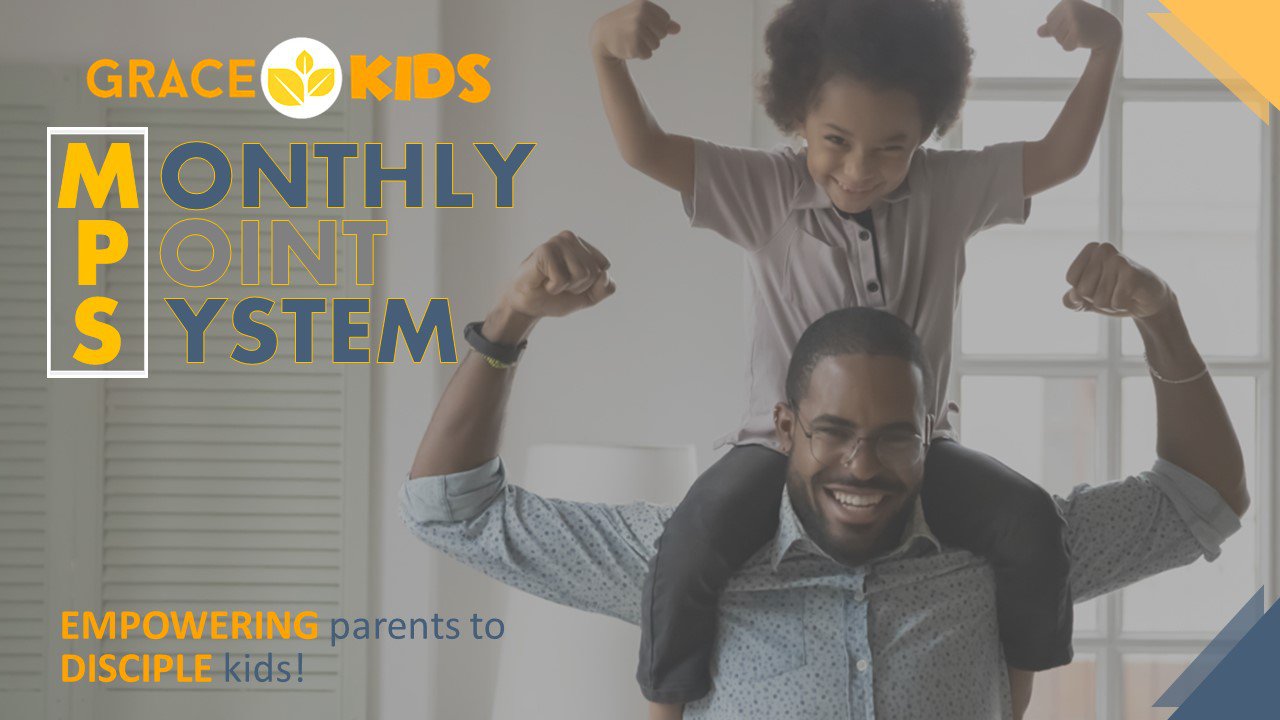 MPS (Monthly Point System) is a fun discipleship tool for our Kindergarten to 5th-grade kids that gets them excited to learn about God and empowers spiritual conversations at home!
HOW DOES IT WORK?
At the start of each month, kids take home a MONTHLY POINT SHEET. Point sheets are handed out at the start of each month, or you can print one out here: MONTHLY POINT SHEET. Each week kids have the opportunity to earn points that are to be kept track of by a parent or guardian on their sheet. On the first Sunday of the following month, kids then bring their signed point sheet in and redeem their points for prizes!
4 WAYS TO EARN POINTS
Bring their Bible to church. (To help reinforce the importance of God's Word.)
Recite monthly Bible verse each week. (To hide God's Word in their hearts.)
Watch the weekly lesson video. (To re-teach what they learned on Sunday morning. Repetition is powerful!)
Complete the weekly devotionals. (To help develop Spiritual Disciplines.)
MPS FOR KIDS
MPS has FUN materials and videos for kids to engage with! MPS is INCENTIVIZED to reward kids for participating in it! MPS can help create SPIRITUAL RHYTHMS for kids! MPS can help kids learn TRUTH through repetition & engagement!
MPS FOR PARENTS/GUARDIANS
MPS is SIMPLE TO USE! All the materials are given out on Sundays or found in the Parent Cue App! MPS provides CONSISTENT & CREATIVE ways to help your child grow in their walk with the Lord! MPS lets you focus on the RELATIONAL & CONVERSATIONAL aspects of DISCIPLESHIP! Parents are encouraged to use these resources as springboards for spiritual discussions because they are the primary influencer in their child's life. You can ask them about what they are learning, or you can watch the lesson videos with them and discuss them together. Because the materials are consistent, fun, and creative you can focus on talking to your kids about Jesus!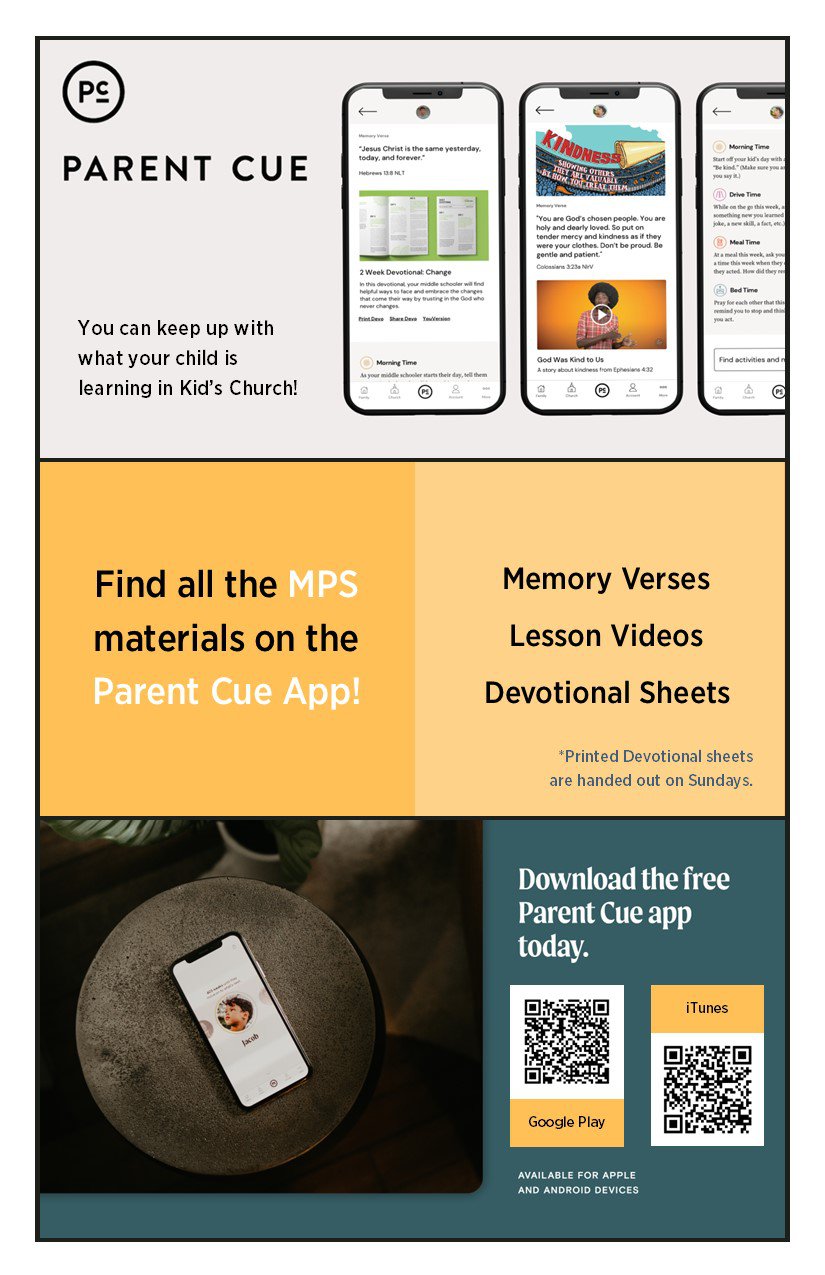 Got questions?
If you have further questions concerning our Grace Kids experience or visiting Grace Church with children, please send an email to Pastor Andrew - drewkrug95@gmail.com