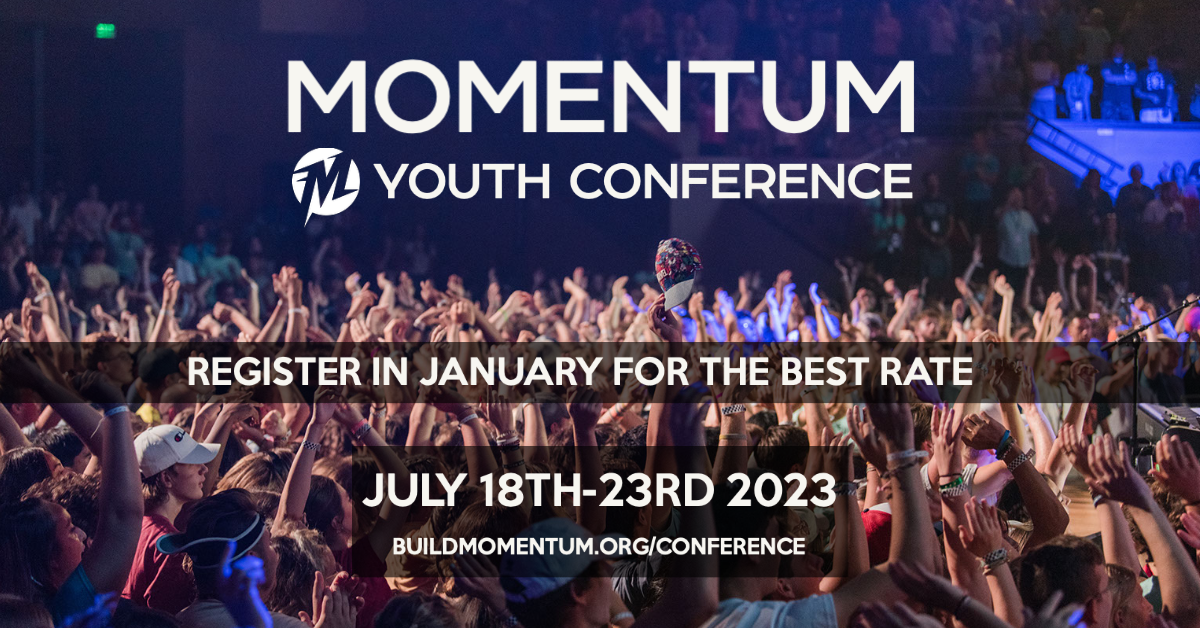 Get ready to build some MOMENTUM in your faith!
Momentum Youth Conference has become an annual highlight for our High School students (9th-12th grade). It is an amazing weeklong conference where students are challenged and encouraged in their faith. It is also a powerful time to build deep relationships with other students and leaders. All these things together help create real momentum for students to take steps in their walk with Jesus!
Important Info:
DATES: July 17th - 23rd
COST: STUDENT RATE
$495 Register Jan 1 – March 15 (BEST PRICE!)
$520 Register March 16 – May 15
$545 Register May 16 – June 15
$570 Register June 16 to July 18
The cost for Momentum includes housing, all programming, and lunch and dinner. (Breakfast is available for an optional $30).
WHO CAN ATTEND: All Grace Students going into 9th grade the fall of 2023 up through 2023 graduating seniors are eligible to go. But students must also demonstrate that they are mature and trustworthy enough to handle the kind of environment that Momentum is. Grace Student youth leaders maintain the right to deny any student from coming to Momentum if it is deemed necessary.
TRANSPORTATION: Is provided by Grace Family Church. Students will be dropped off and picked up at Grace Family Church. Specific times will be finalized closer to the conference.
SIGN UP: You can find sign up instructions below, as well as the button that will take you to Momentum's website. There you can follow the directions to sign up. Any student signing up will also need a 2023 Parent Consent Form filled out. Please remember that Grace Students Youth Group only take students to Momentum who the youth leaders deem mature & trustworthy enough to go. If you are unsure if your teen would be considered eligible to go reach out to Pastor Andrew to clarify your teen's eligibility. Any funds that are paid for students who are then deemed ineligible to go are not the responsibility of Grace Family Church. Cancelation/Refund policy for Momentum can be found at Momentum's website.
PARENT CONSENT FORM: Any student going to Momentum will need a 2023 Parent Consent Form filled out. You can find the Parent Consent Form at the Grace Students web page.
Sign Up:
All students going to Momentum will also need a 2023 Parent Consent Form filled out.
Remember only students deemed mature & trustworthy enough for Momentum will be allowed to go.
Click here for sign up instructions!